Below is the first moment in a growing collection of quotes, anecdotes and memories that give a glimpse into the lives of people who our organisation exists to serve.
The common denominator behind this collection of moments is that all the people live with disability. However, you'll quickly discover that the diversity of their experiences, personalities and interests are far too great to be boxed in by a label.
We will add a new moment on a weekly basis.
---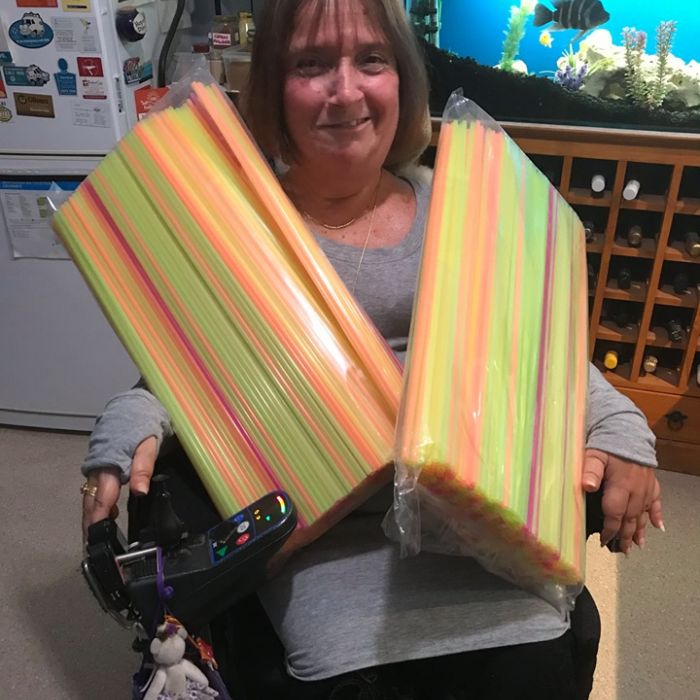 Maria
Bring on the straw war. I'm Ready.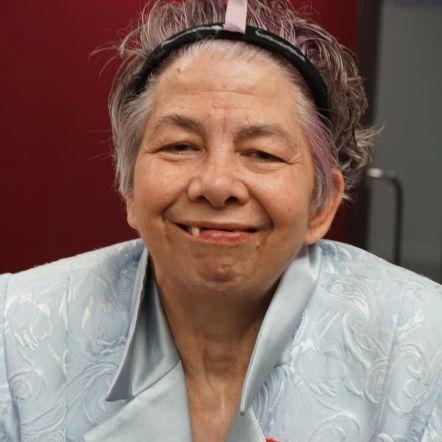 Maria
"NAIDOC week is good to get together. We all go into the city together and we meet the rest of our friends. They have a float that has all our colours on it. Red, black and gold. We have lunch and walk around and meet up with people we haven't seen for a long time. And we get to make friends with other people. I'm happy we're doing this because it's not only the Aboriginal people that go but it's the Aboriginals, the whites and everyone else. We all get to go talk about things. We're not allowed to be excluded. We are allowed to put our voices out to be heard. Whether we're disabled or not."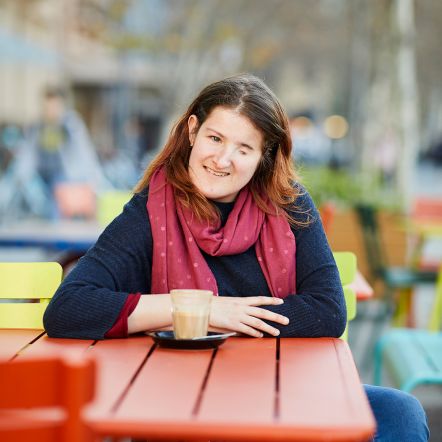 Ellen
When you have a disability people automatically project their expectations of what they think you can't do onto you. It can be big things like going to India on my own, or little things like going to the shop, going to the gym, joining a yoga class. I had this experience where a yoga instructor did that to me. After class the instructor was like, "You did such a good job! Wow you are so amazing". It wasn't something that she was doing to anyone else. It didn't feel nice or comfortable. When a person who doesn't have a disability goes to the shop, no one claps their hands, but as soon as I go, people say, well done for getting out of bed. There is so much you have to push back against to establish your own independence.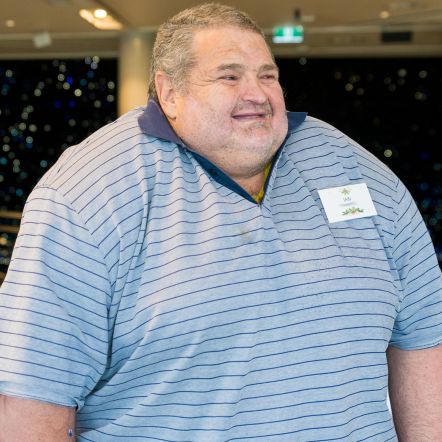 Ian
"Our voice is a team of people who get together to hear stories from other people who've got the same kind of disabilities. We've being going for 12 years. We don't answer to anybody. That's the best part about it. I'm chair of the committee. I make sure the meeting runs properly and make sure all the issues get done. Our Voice means to me, to help other people with the same kind of problems as I have. If you've got intellectual disability people don't want to listen to you. To me, I'm like their mouth piece. A lot of people are scared to speak up. For so long, people teach us, when you've got a disability, you never have rights. Now we've got rights like anybody else has." - Ian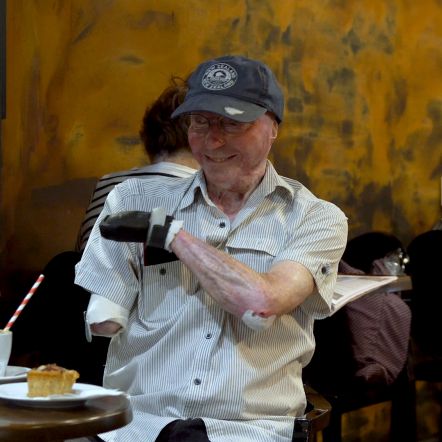 Terry
Cafe owners know me. You never forget me when you see me for the first time. I ask for a cup of coffee and a straw, they bring it to the table. Normally I have a simple velcro cuff on my arm which takes a fork. They place the fork in my cuff, and I am able to eat the meal independently. I'm able to drink my coffee independently. I place my credit card in my top pocket. They take the card out and swipe it on the machine. So I am able to go to the shops and have a meal and coffee by my self. It is something to do and it is my independence, which is very important for me. And to be quite honest I do like to be amongst people going through their daily lives, rather than sit at home on your own. I'd much rather be out, getting a bit of exercise and having a coffee. I like to sit there and watch the passing parade of life.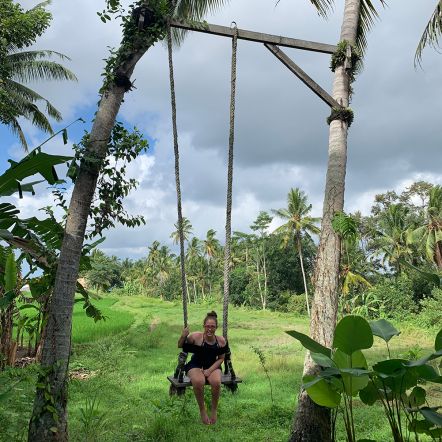 Jocelyn
Going to Bali, I knew would be an adventure! I had last been there around 12 years ago and knew it was not going to be very accessible in general, but had some outstanding places I wanted to visit regardless!
Choosing who I would take on my trip was a vital decision, as I knew whoever I took would need to be just as adventurous, if not more than me, and willing to support me in taking risks.
Not one place I have stayed at or visited yet has been wheelchair accessible, but that has not stopped me doing a single thing! Natural hot springs, rural village visits, hiking through rice fields, swings and so much more!
Some places have advertised being wheelchair accessible and confirmed it, only to arrive to find no ramps, rooms not big enough to allow a wheelchair in and circular doors! These have just added to the adventure in finding ways to overcome these challenges!!
I don't mind being carried around where necessary, but prefer staying in my chair where possible, which means carrying me in my chair, and local people are always happy to lend a hand where needed!
Making the inaccessible accessible just requires a little thought and creativity! Where there is a will, there is definitely a way!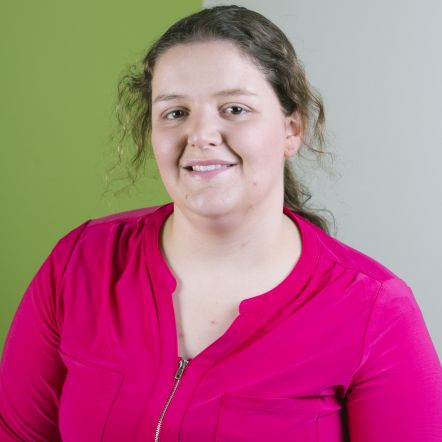 Simone
I'm trying really hard to get work at the moment. I'm a trained makeup artist. I'd love to get into perfumery and cosmetics. Beauty is within, and it is important to know that. But if you are into makeup, you can make someone's day if you sell someone the right amazing foundation or a perfume that a husband's going to bring his wife. That's really what I'd love to do. Later on I'd love to get into special effects makeup, but I've got some study to do to get there first.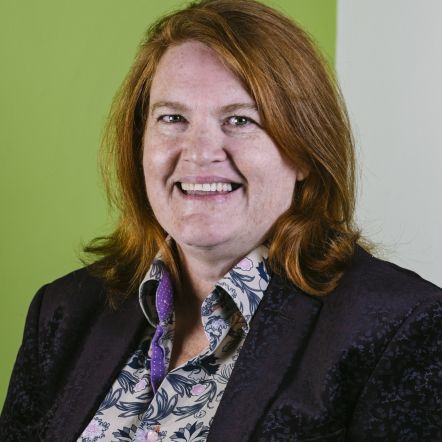 Michèle
It's very hard work as a disabled writer doing plays. It takes me five years to get one staged. The difficulty lies in the solitary nature of being disabled, where playwriting relies on networking and collaboration and promotion. As a result of my circumstance, I live quite a solitary life, so it is hard for me to connect into the theatre making professional world. So there are a number of barriers that make theatre making particular difficult for me. But I persevere because I am incredibly passionate about theatre making.
[ Learn more about Michèle's work here:
https://access2arts.org.au/artist/michele-saint-yves/
https://australianplays.org/playwright/ASC-4214 ]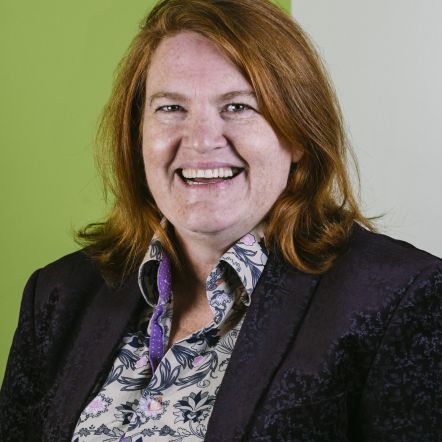 Michèle
I write, mostly for plays, but also a novel or two, and on occasion a short story or poem. One of the most exciting things for me as a writer is to capture how people speak. It is so telling about a person's nature, and where they are in themselves and their life course by the way in which they phrase things and the words that they use. I am constantly making notes, when I am on the bus, on the tram, sitting in a coffee store. I have heard the most amazing short little vignettes of people's dialogue, and a whole world comes through my ears, just by listening a few minutes. It's riveting.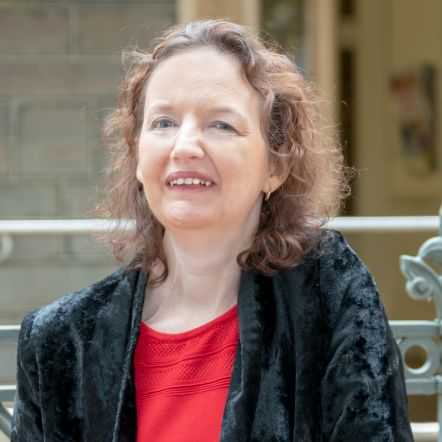 Alisha
So I am losing my hearing, and I am pretty sure that one day I will lose it completely. So that is why I am learning Auslan. When I started, it was about having a method of communication, but through learning Auslan I've made many great friends, and I've met people in the Deaf community. Seeing how people in the Deaf community get along in their daily lives, it's made me realise being deaf is not really a barrier. And for me, that is so reassuring! It has taken a lot of that fear away of becoming deaf.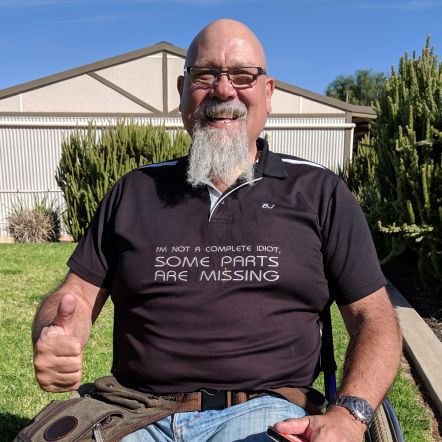 Brett
I got t-boned by a truck in 1983 and had my right leg amputated. Since then, I've never let my disability stop me from doing anything. My disability is an inconvenience - I just have to do things differently.
In 1990, I was number two in Australia for trick jet-skiing against able-bodied people.
I've done seven Adelaide to Port Lincoln yacht races.
I've worked in upholstery and even made my own motorbike seat. And yes, I still ride my bike. I have a disability but I still live my life.
Kaila
So I went to two private schools. The first private school I went to, my primary school, I didn't feel very included or understood. I don't think they'd ever even heard of what autism was before they had met me, before I got diagnosed. And I wish they talked to me and my parents more, instead of assuming what was best.
It was almost like, oh, you have a disability now. We are going to do these things that we think need to be done to someone with a disability. We're not going to talk to you or discuss what you need. You know? And I felt very different and not part of the community there.
My second school that I went to, St. Mary's College, from year six to year 12, I found was a lot more inclusive. They hadn't ever had another autistic student either, but they were more open to hear from me and my parents, and hear what we needed, and then go from there and work with us. And my grades went up in like the first two years that I moved, from like D's to A's. So yeah, definitely made a significant difference.
Because I was getting support, and in my old school I think they didn't think I was very smart, so they'd just give me simple work. While in the new school they kept challenging, and me realizing that I was smart. I just worked in a different way, and maybe things would take a bit longer. Or we'd have to go a different way around it, but I could do what everyone else could do. You know?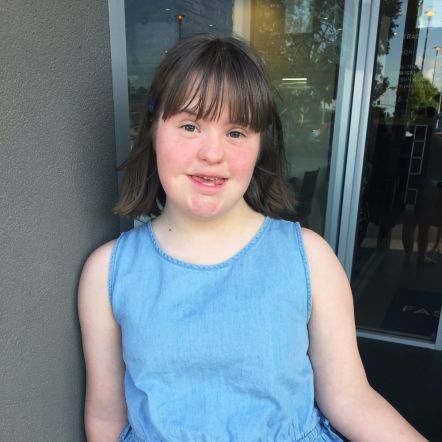 Hannah
Inclusion is everybody enjoying one big world.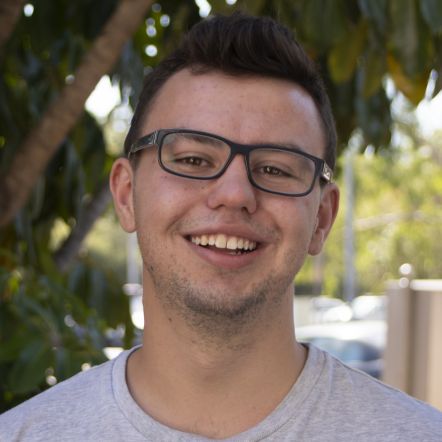 Zac
'When I was about 12 years old I had yet to learn how to ride a bike. It didn't really phase me. I had given up on it years earlier because it was all too hard for me to learn to balance. One day at school I got an invitation to a birthday party at one of my closest friend's houses and I was so excited. As I read further down it said, 'bring along your bike and helmet and join the fun!'. I was crying, stressing and so frustrated but I couldn't tell my friend why. I went home that night and explained this all to my mum and dad. They said well if you want to do it you can learn. Meanwhile I'm screaming and yelling thinking how in the world am I going to learn to ride a bike by this weekend? But starting that very Monday night I padded myself up in motorbike gear and set off down the street with Mum and Dad taking in turns to chase me with the broom attached under my seat for balance. I was out there for 3 nights straight. After many stacks, a broken pedal and enough yelling to get the police called, I turned while riding along to find Mum wasn't even behind me and I had done the unthinkable and learnt to ride a bike!'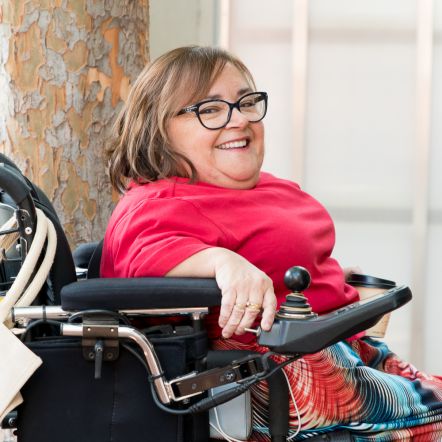 Jacky
"Life is too short… as I saw both parents leave this world before they had a chance to enjoy retirement. You shouldn't feel bad about retiring, so why did I feel guilty? It took me a long time to gain the courage to say I was going to retire. Why? Everyone kept asking me, "What are you going to do if you are not working?" As if you need to do "activities" all day every day. But then a good friend in conversation said ideally he would like to retire by the time he turns 55. And I was like "YES!" It was a lightbulb moment! If he can retire at 55, why can't I? Guess how old I am this year? As much as I've enjoyed my time here, I am here for a good time not necessarily a long time."
Jacky, quoted on the day she retired 28-3-2019. We will miss our friend and colleague, and her witty sense of humour around the office!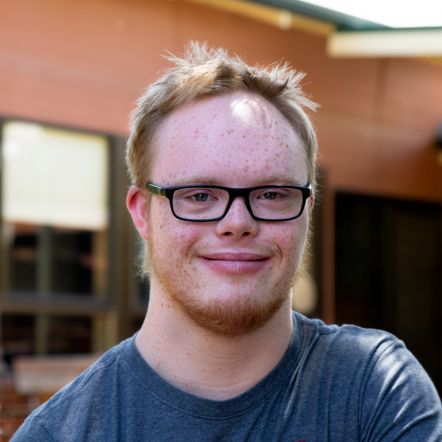 BEN
I was really not included at school. Even at primary school I got bullied. He threw a pen at my head and thought it was funny, but it was not. I was treated like a shadow to everybody. Nobody invited me to places. I had depression not going to places. I am in need of going to places with people. I hate it when people treat people like we are a shadow. Never do that. Never bully. Crazy and nice things is what you need to do. Caring for each other people, it is just really really nice. It would be a much better world.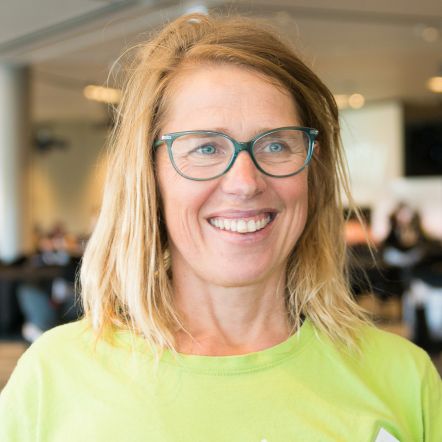 Jane
"I was an elected Councillor and I worked on the Campbelltown Council in South Australia from 2006 to 2010. We wanted to improve accessibility and inclusivity and represent members of the community who live with disability. I am passionate about standing up for the rights of kids with autism and people with disabilities and also about doing what I can to pursue the war on waste for the good of the environment. I want to show my children that it's possible to be the decision makers and create the environment that they want to live in. I believe in the power of the human spirit to rise above adversity."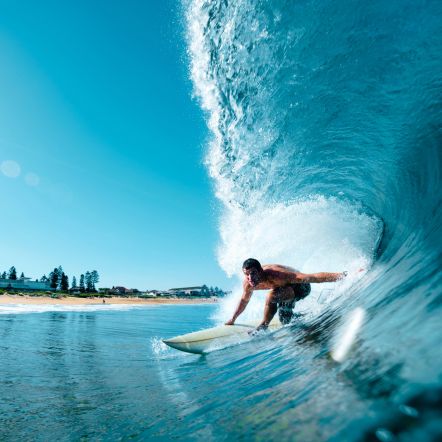 Ollie
"I was incredibly stoked to surf my first real waves. This marked 5 months from the day I received my first prosthetic leg and began the tedious process of learning how to walk again. Every single day I think about surfing, and with that comes a roller coaster of emotions and the constant self doubt that I'll ever be able to surf properly again. Losing my passion for surfing has been one of the hardest things that was stripped away from me. This session has sparked my passion for surfing once again and given me hope for the future." (Instagram: @olliedousset) | Photo by Mitch Clark (instagram: @clarkmatter)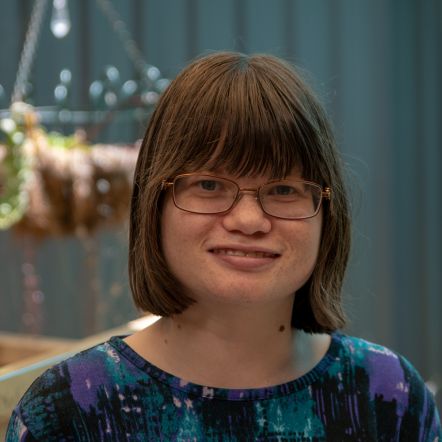 Leeanne
I was not diagnosed as being Autistic until I was 18 years old. I went through the school not knowing and the school also did not know, which I think in some ways was good and some ways not so great as well. Sometimes I had difficultly understanding the intention of my teachers, and I'd be completely wrong. One time, we were in music class and one of the students answered the question with the word pig. And clearly that was the wrong answer, and all the students around me started laughing. I did not find it funny. But, because everyone around me was laughing, I was like, well the appropriate response here must be to laugh. I just started laughing because everyone else did. The teacher then singled me out in particular, and told me off for picking on the student, which I was really confused with. I was only laughing because everyone else was laughing. So from that moment on I just decided to never speak in that class. I thought the teacher was unfairly picking on me. But now that I have the diagnoses I wonder if I laughed differently, or something. But at the time, I didn't know. So I just became really quiet in that class from that point onwards. It was a good way of not getting into to trouble, if you just stay silent. I think teachers should look out for students doing that.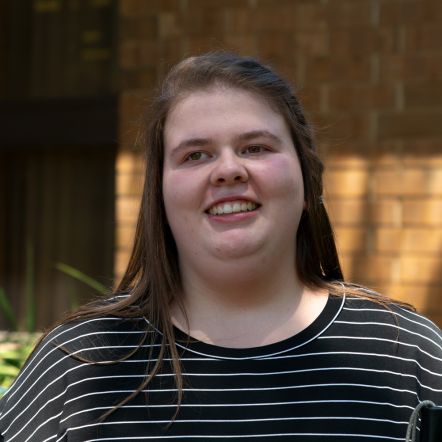 Madde
"During school, I thought it was pretty inclusive, however there were some areas that I thought were a bit segregated. For example, in high school there was not only a visual impairment unit, but there was another special ed classroom. Sometimes during lunch, that classroom would turn into a games room. So those with disability would tend to congregate together, and not so much interact with other students in the school.
Other students don't know how to interact with us as much as they could have. So the friendship group tends to be just people with disability.
In my opinion, inclusive education is not only providing the materials and the necessary support to help them get through their school work, but bridging the gap between the disability and non disability community socially within the school community."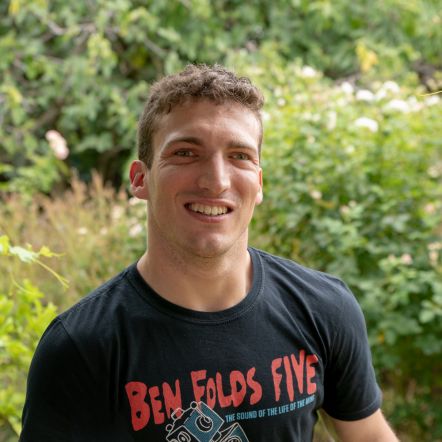 Angus
"I attended the same mainstream school all the way through reception to year 12.
Basically when you start off at school that young, the general attitude was, "You walk funny, want to be friends?"
People noticed, but just got on with it. I've got fantastic friends from that school. There is a group of eight of us that still catch up after 20 years.
I was bullied by one person, but it was quite odd in a sense, because everyone who knew me approached that guy and said, "If you keep going the way you are going, we are going to sort you out."
I think the earlier that kids get exposed to disability it normalises it. There is none of the rubbish that you see with adults."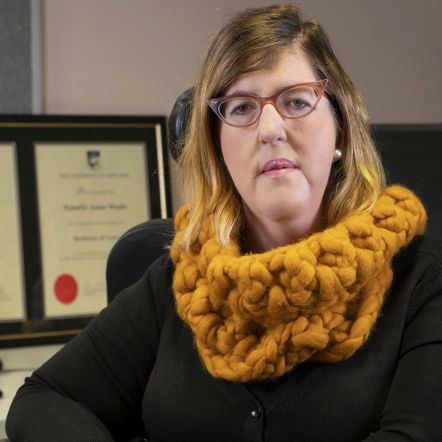 Natalie (2/2)
"People tell me that I am an inspiration, but sometimes they do it not in an 'inspiration porn' way. Sometimes they do it because of my achievements, and that's well deserved. I've done a lot of cool stuff in my career. I've built a cool house, there have been a lot of things that if one of my friends had done I'd say, "That is really inspirational". It's not a dirty word. It's just often misused in my context. There are people that team up the idea of me living an ordinary life with inspiration. That's not the best."
Natalie won Australian Young Lawyer of the Year and SA Young Lawyer of the Year in 2016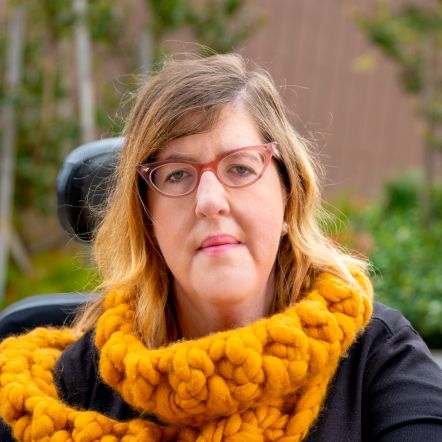 Natalie (1/2)
"If you are not working towards having a genuinely diverse workplace, then you are working towards yourself going out of business. Diversity will bring great thinking, it will bring innovation, it will bring a stronger fabric within your organisation, and disability is just one part of that. If you are not employing women, young people and people of colour, then you are not putting together a strong work place, leading to your gradual demise. It is probably best you don't employ people with disability then, because they will be out of a job."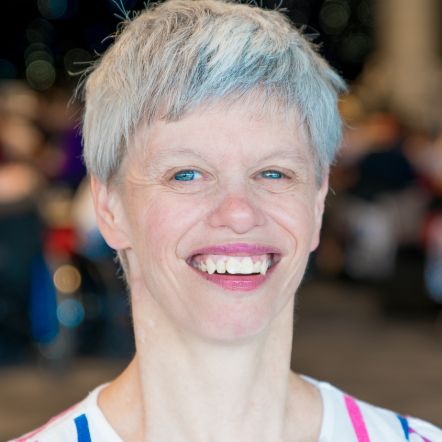 Shannon
"We are not houses, rocks or roads. We are humans. We want to be listened to."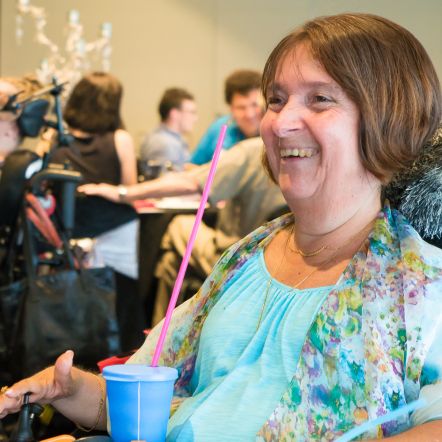 Maria
"What does it mean to be Italian to me?
It means an extremely strong family connection.
It means never to feel alone.
We all love and care about each other, even if it sounds like we are arguing when we speak because we are so loud.
And food, you will never go hungry if your Italian.
You know when you're in a true Italian house because you always get asked "How are you?" the moment you walk in the door, and you will be offered a coffee and food.
It means so much more than all of this, only I'm not sure how to describe it. I'm Australian born. I was brought up in a world with no Italians or Italian culture until I finished school at Regency Park Crippled Children's School, however the Italian culture was never broken. I suppose you can take the child away from the family but you can't take the family away from the child."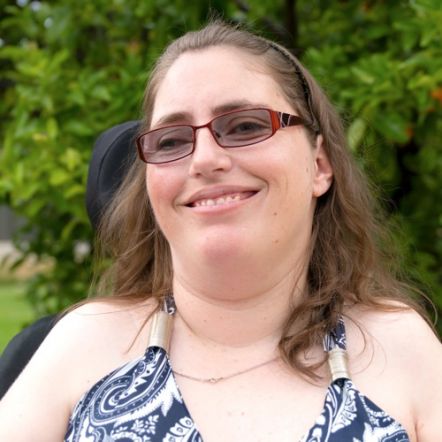 Cheralyn
"I went to Sydney for New Years Eve once, and my wheelchair decides to get a flat tire. I have to find someone who can fix my tire so I can keep moving. My support worker is panicking.
I'm like, 'Dude, there will be someone who can help us, we just got to find the right person.'
Rather than sitting there crumbling, you just got to say, right, what are we going to do.
So I ask the hotel concierge to speak to the maintenance department.
The concierge goes, 'Why?'.
'Because I got a flat tire and I can't move,' I say.
'Well, that's a bit of a problem,' he says.
'Yep.'
So they put me in this office chair, tip my chair over, fix my tire, and flip it back over again.
Sometimes, you've got to just open your mouth and say, 'I need help.'"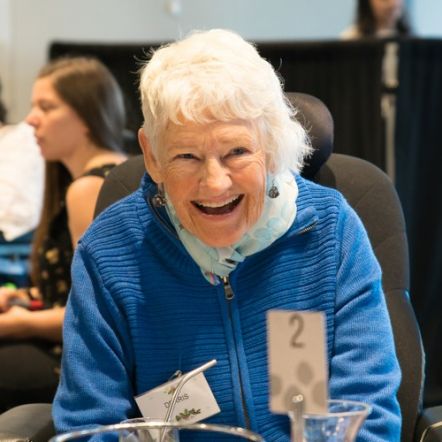 Derris
"Don't assume anything. Ask me."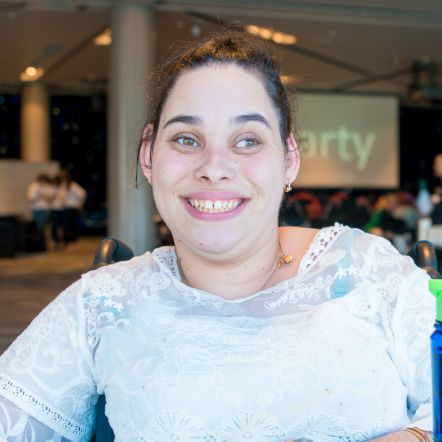 Nicolette
"For the past 14 years, I have been lucky enough to have the same wonderful support worker. So when I was told that she was leaving, I was a mess and very anxious. I was never a person to like change. But, as the time has gone by I have realised this change was a good thing for me. I now have gained a variety of new support workers that are closer to my age. This is a new positive experience for me, as they are more keen to get out of the house with me and help me to experience the world. I have gained more independence. My new workers encourage me to do more things out of my comfort zone, which makes me less scared."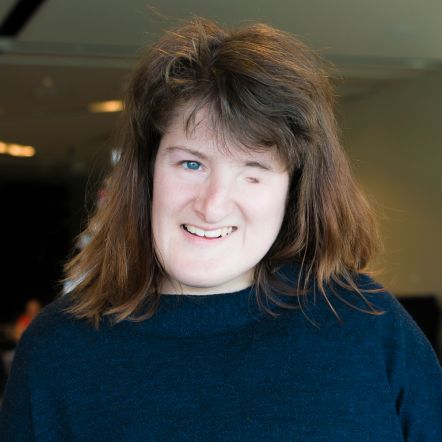 Ellen
"I would love to be part of a peer group for people who live with disability focused on adventure, thrill seeking and risk taking.
Often in disability service programs there are all these occupational health and safety issues that prevent support workers from assisting you to go on adventures. I think a peer group could really help encourage this, and it's important because we grow when we get out of our comfort zone.
For example, I went to India when I was 19 on my own. Everyone said I was crazy. But I found it was the best way to develop confidence. I could set up my own boundaries rather than other people setting them for me."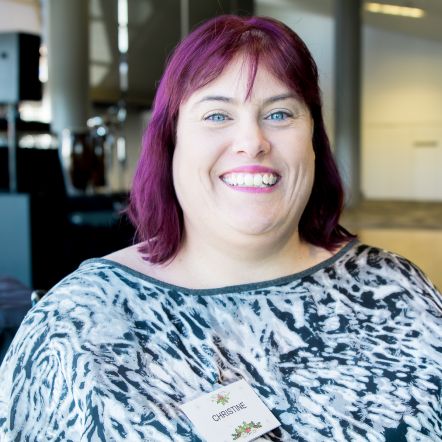 Christine
"I'm studying a graduate certificate in disability studies and plan to do a research masters focused on my passion, sex and health. I'm specifically interested in the prevention of sexual diseases for people who live with disability. They are often at greater risk because the 'professionals', the academics, GPs, nurses, midwifes etc, never assume that people with disability have sex. So sex for people with disability is a Pandora's box syndrome. It's never talked about."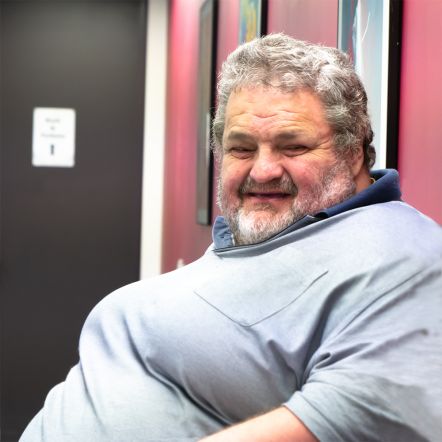 Ian
"If it wasn't for us, none of you would have jobs."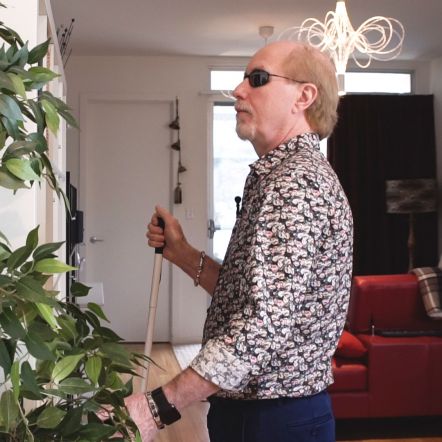 Tony
Most people are surprised when my wife Jane says I was the main one who designed where everything was going to go in this place. I have lots of things in here that I've never seen, never will see. But, I have a sense. It is almost like I could be a blind interior designer. It's something I enjoy.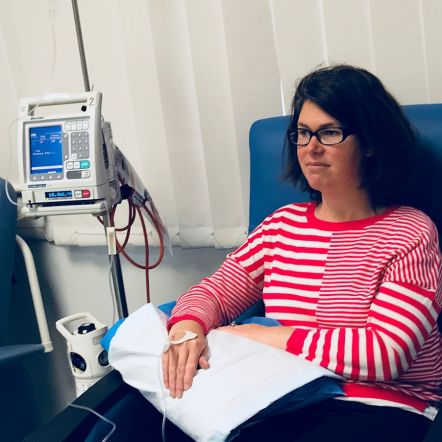 Mikaila
"The hardest part about having severe Juvenile Arthritis is that people don't realise how seriously damaged my joints are or how sick I can become because of my compromised immune system. For more than 10 years I have been regularly pumped full of the latest drugs every month via an intravenous infusion. They make me feel quite sick but they also help to control the joint swelling and pain. It has been a bit of a logistical nightmare to be chained to a drip for several hours every month and then feel quite unwell for a bit, especially when my daughter was a baby. And it is often hard for people to understand that I need such intense drug therapy for a condition that sounds so common. But just recently I had my last infusion (hopefully forever) because there is a new drug available that I can take as a tablet every day instead. This will be so much easier, I am so lucky!"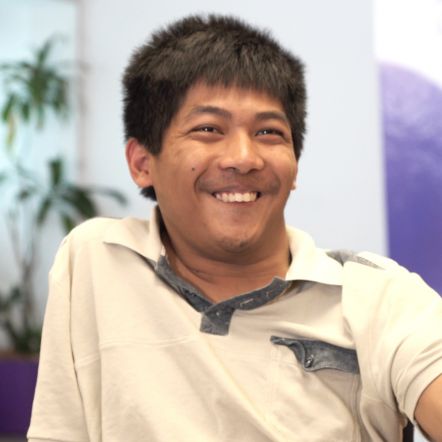 Dara
"Sunday October 2nd 2016 was the start of everything. So much trust was gambled on that night.
Let me back up, earlier that year I met a guy on Tinder. He was using Tinder Plus to allow him to match to places outside his hometown. He was living in Spain, but wanted to befriend Adelaide people as he would be coming down here later in the year.
We chatted for a while but eventually stopped talking. I did not mind because I hadn't met him yet. But, out of nowhere a few months later, he messaged me and asked if I was keen to meet soon.
He added me to a Facebook chat with some of his friends, also in Adelaide but from France, Italy, Spain, that side of the world. It made me feel like a star because everyone was interested in me and was keen to meet me. I provided them with information about my disability.
Anyway, we decided to meet at a bar. I am not sure why I was more anxious meeting this group of friends than the first time I met a solo person on tinder. I was filled with mixed feelings and had a spasm. In the past when I've had a spasm, people have said I should have a paid worker with me to take care of my spasms, but these people just let it pass. The fact that my spasm didn't scare them away made me extremely happy and comfortable with them. It would be great if everyone reacted like that.
Putting myself out there on October 2nd 2016 taught me you must go for it and seize the moments. We all became close friends, catching up regularly. Our friendship opened me up to new worlds. It proved I don't need to have paid staff with me when I hang out with trusted friends.
After two years, they left Australia. I love them a lot and will treasure our time for life. They were and are the ultimate international crew for me. I must make it my ultimate goal to visit their home countries."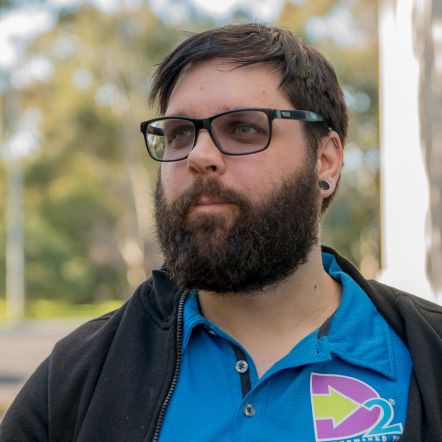 Nick
"I seek out opportunities to be nervous. Being nervous shows me that I am on the right track of what I am supposed to be doing. It means I care and am passionate about getting it right. If you are not nervous, maybe it means you don't care enough to give it your all."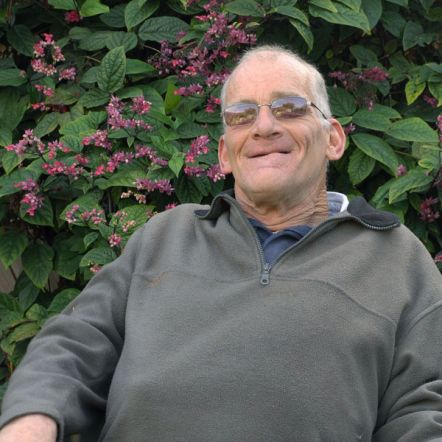 Trevor
"I've been involved in disability advocacy for a very long time. I remember when I was 18 I was writing letters to the editor and the media.
My mum said, 'Careful, we don't want a shit stirrer in the family.'
I said, 'Well, sorry, but you've got one.' "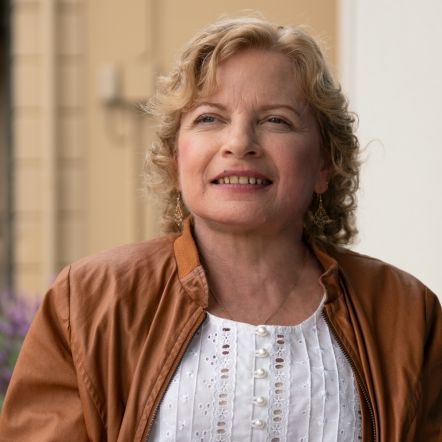 Jill
"I was in hospital a while back. It was written everywhere that I was allergic to this certain medication. They gave it to me anyway. I had an anaphylactic shock and ended up in ICU for five days. I nearly died. After that incident, I now question everything. Why is this tablet green now? It used to be blue. Why do you want to stick that needle in me? I'll find out if it is absolutely necessary. I'm not going to be a guinea pig. I learned to speak up for myself."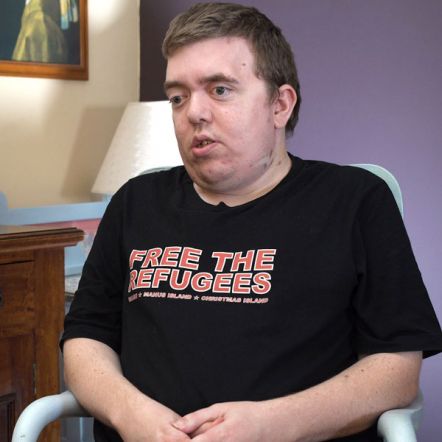 Tim
"I would say everyone who lives in a country where they could easily get killed by government troops, rebel troops or by bombs have the right to flee to a safe haven. It's what the western world signed on for in 1951 when the UN refugee convention was drawn up. I strongly believe in the UN refugee convention. Try to imagine our country is like Syria or Libya and we need to flee to a safe country, and it's our children filmed making the long harsh journey.
Having a disability, I feel like I am part of a marginalised community, so I believe in standing up for other maginalised groups."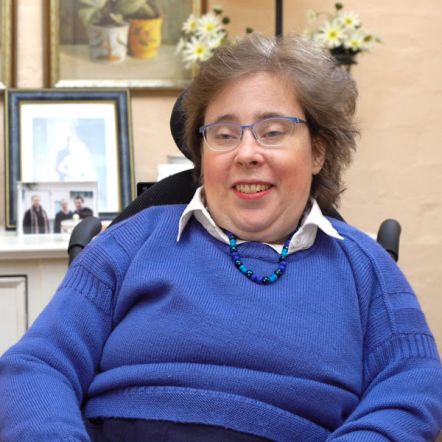 Kate
"There are a lot of shops that haven't thought of wheelchair access. Even if you suggest to them you'd love to come into their shop, they won't do it because they think it's too expensive. But, I'd rather give positive examples than negative ones. I went to Kintaro Sushi Train on The Parade and said I'd love to come into your shop. At first they got a couple planks of wood to get me into the shop, and now they've gone to the expense of getting a proper portable ramp. Because they did that, I make sure that I go there quite a bit. In fact I went in there yesterday."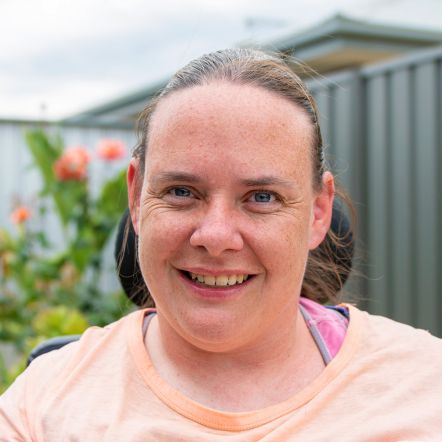 Jane
"When my nieces were born, I decided I was going to set a good example for them. I wanted them to grow up thinking that disability was okay. Now they are four years old. They don't see disability different in any way. They've grown up seeing me as me. I hope when they go to school and through their whole life, that they will keep that with them."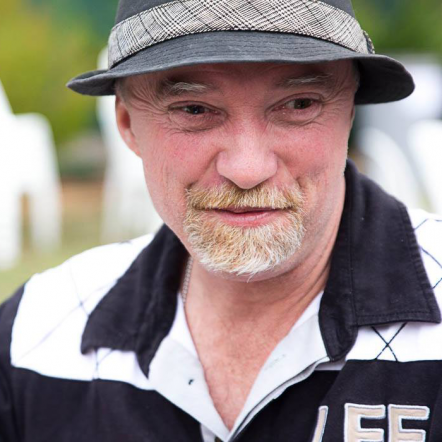 Stephen
"I haven't got my eyes.
I haven't got my legs.
But I've got my ears and I've got my drinking arm.
I've got some partying to do!"